Are Life Jackets Required on Kayaks?
Posted by JAMES S.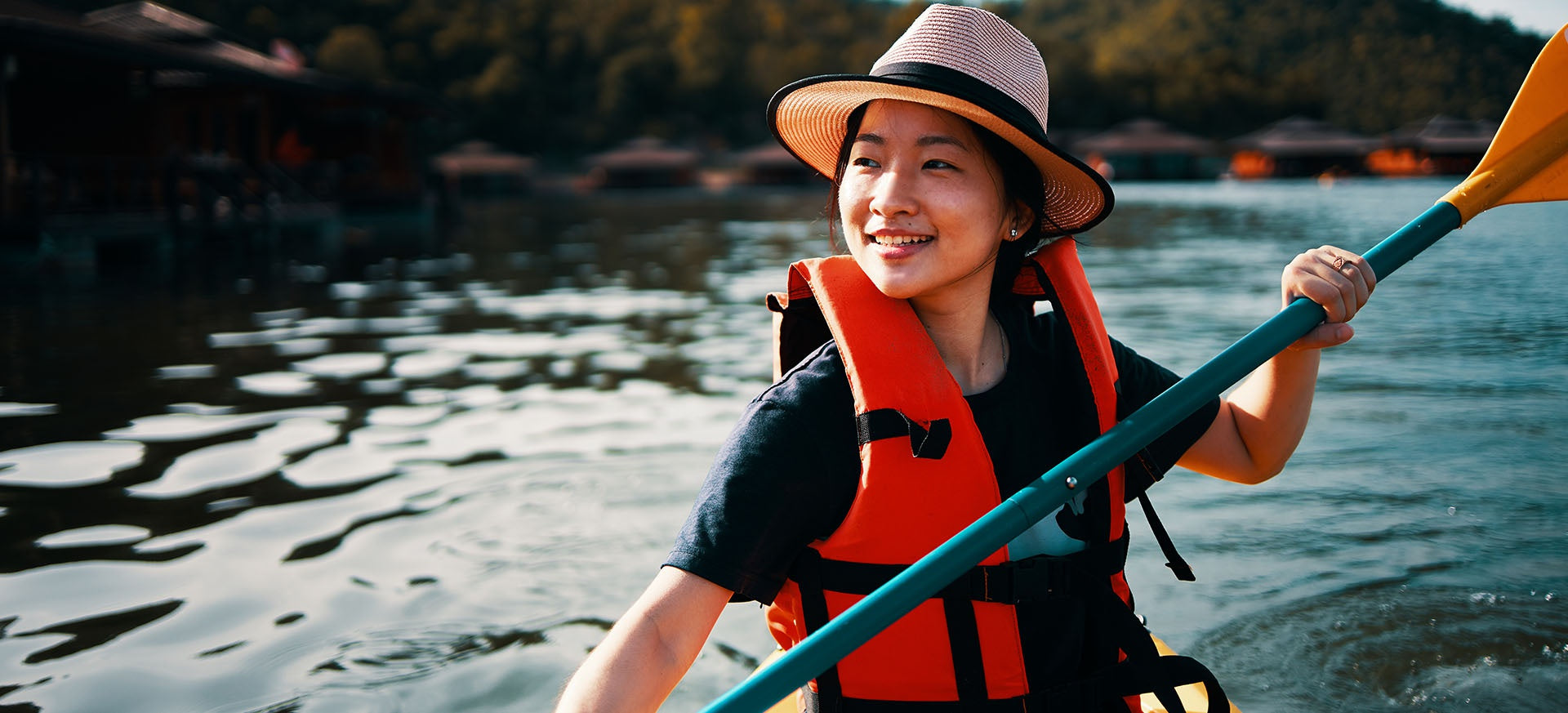 Kayaking can be a great way to get exercise while also enjoying the great outdoors. Plus, as a paddle-powered watercraft you are unlikely to hit speeds that will be dangerous to you or others out on the water. However, it is not without its risks.
Even in the calmest waters there can be a danger of going overboard and risking injury or worse. So, while you are unlikely to get in trouble with the law over speeding, you will need to keep certain safety equipment in mind.
Here we will look at safety equipment required on kayaks in Canada including rules for juvenile kayakers and personal flotation devices.
Main Takeaway for Life Jackets on Kayaks
While there are nuances to the laws, the main rule you should keep in mind is that each person on a watercraft should have a personal flotation device. Specifically, each person should have a life jacket style device that is fitted and properly secured. Flotation cushions that you can hang onto are not approved.
However, the law does not require you to wear your PFD at all times. That being said, trying to put on and fasten a life jacket once you are in trouble can waste precious seconds and increase your risk of drowning. Therefore, though it is not the law, it is recommended that you wear your life jacket at all times especially as the craft is in motion.
Canada Transport Approved Flotation Devices
Not all flotation devices are created equally. In Canada, flotation devices must be marked as "Approved by Canada Transport."
Inflatable Vs Traditional PFDs:  Inflatable PFDs are often preferred by kayakers and boaters because when they are not inflated they are much less bulky compared to non-inflatable PFDs. However, if you choose an inflatable PFD you must wear it at all times. It does not need to be inflated but it must be secured around your torso properly. Approved, non-inflatable PFDs do not need to be worn and are considered sufficient if they are simply on board with you.
However, it must be noted that any child weighing under 36 kg or who is under the age of 16 cannot use an inflatable PFD. Additionally, inflatable PFDs are not approved for anyone in whitewater.
Proper Fit: A Transport Canada approved PFD is only adequate if it is fitted properly. Most often fit issues are because a child is too small and the life jacket is too loose. However, adults who are heavier, wider, or taller may also experience issues with a regular "adult" size life jacket.
Fortunately, there are plus size life jackets that can accommodate adults who weigh 400 lbs or even more. However, no matter your size you should try on your life jacket before getting out on the water. This will give you a chance to learn how to secure it properly and make sure it fits.
How Many Personal Flotation Devices Do You Need?
By law, in Canada, you should have a PFD for each person on board your craft. This means if your kayak has a maximum capacity of 3, you should, ideally, have 3 PFDs. The exception to this would be if you know for certain that you are unlikely to ever have your kayak at full capacity. In this case, you simply need to have as many PFDs as passengers.
Rules for Children on Kayaks
Children also require their own personal flotation device in the form of a well-fitting vest or jacket. This means that a child that is too small to fit snugly in an adult vest must have a children's sized vest.
Moreover, if a child is under 9kg (about 20 lbs) there is no approved way to bring them on a kayak. Therefore, Transport Canada recommends not bringing children who are lighter than 9kg.
Also, as mentioned above, kayakers under the age of 16 and under 36 kg must have a non-inflatable style PFD. Inflatable PFDs are only approved for adults over 36 kg in non- whitewater conditions.
Other Kayaking Safety Measures
Know How to Swim: Most likely if you are getting out on the water in a kayak, you are already a competent swimmer. However, if your swimming skills are rusty it is a good idea to brush up on them in a controlled environment like a pool with a life guard before jumping in a boat or kayak.
Sound Signaling Device: A sound signaling device is used to alert other boaters that you are in distress and in need of help. It is especially important when there is fog or other conditions impairing visibility. Specifically, you should have a type of device that does not have a "peal," which refers to the little round wooden ball you find in some whistles.
Watertight Flashlights: Human-powered water crafts do not reach speeds great enough that they require the same signaling lights as a motorboat. However, you will need a watertight flashlight for signaling when you on the water when it is dark or there are other conditions impeding visibility. Tandem kayaks longer than 6 meteres must also carry at least 6 flares.
Bilge Pump: If your kayak is deep enough that it can hold enough water to make it capsize, you will need some kind of equipment to bail water when needed. This can come in the form of a bilge pump, manual bailer, or any container that is able to hold 750 ml of liquid or more. You can even repurpose any 4 liter jug by cutting off the bottom and using this as your bailer.
Invest in a Reliable Kayak
One of the sometimes overlooked safety measures is investing in a quality kayak. High quality inflatable kayaks offer an affordable alternative to traditional kayaks but with easier portability. Inflatable kayaks with welded seams versus glued seams and made of quality PVC are less likely to get tears or other damage. This can make your kayaking experience safer and more enjoyable.
At Perun Outdoors each of our inflatable kayaks is made with welded seams and with safety in mind. To learn more, browse our complete selection of inflatable kayaks
Collection 2019
Sale 70% Off
Title for image